The 2022 Subaru Love Promise Customer and Community Commitment Award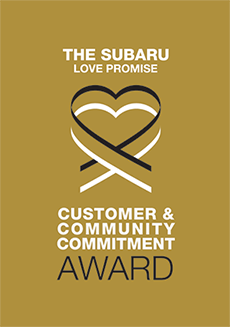 We've been nationally recognized for our dedication to our customers, our community, and the Subaru Love Promise.
We're honored to receive the 2022 Subaru Love Promise Customer and Community Commitment Award. This award nationally recognizes elite Subaru retailers who provide an exceptional customer experience at every interaction with Subaru. These retailers have also demonstrated an outstanding commitment to supporting passions and causes in their local communities in important areas such as the environment, community, health, education, and pets.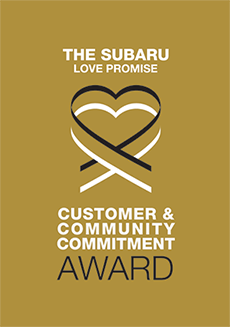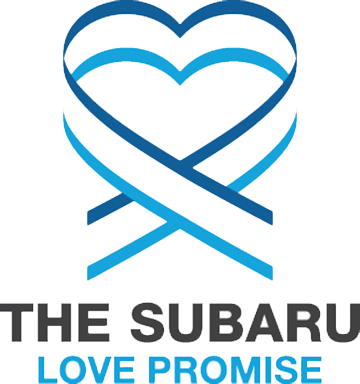 What is the Subaru Love Promise?
Subaru and our retailers believe in making the world a better place and the Subaru Love Promise is our vision of respecting all people. This is our commitment to show love and respect to our customers and to work to make a positive impact in the world.
How is Subaru Sherman Oaks dedicated locally to the Love Promise?
Our Love Promise can be seen in various partnerships with local charities and non-profits. We're grateful for the opportunity, not only to be a part of our community, but to serve it as well.
LAAS Los Angeles Animal Services
TreePeople, World Wildlife Foundation
Ovarian Cancer Coalition, Relay for Life
Love Promise Stories from Subaru Sherman Oaks
Subaru and Subaru Sherman Oaks believe in making a positive impact on the communities in which we live and work. We uphold that belief through our Love Promise Community Commitment. Every month, we select inspiring stories from customers and partners from around our area who strive to support our collective commitment and feature them here
Sharing the Love with Trees - susan d
Subaru Sherman Oaks was delighted to deliver a $27,000 check to TREEPEOPLE during Earth month this year. Our Subaru customers are representing the Earth in their choice to select TREEPEOPLE as their Share the Love choice.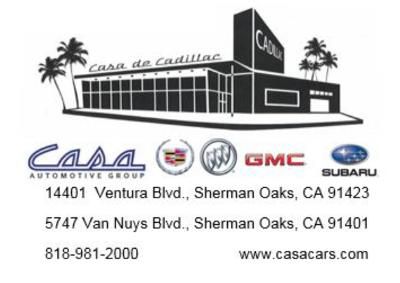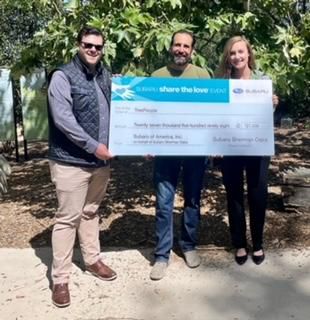 ---
ABC7 Feed So CAL - HANNA W
Subaru and ABC 7 news came to Subaru Sherman Oaks to film their FEED SO CAL commercial last week. SSO has historically been a stand-out location for customers, neighbors and employees to get involved in nonperishable food item drop off which we then send to local Los Angeles Food Banks. The commercial included many SSO employees and kicked off our # LovestoCare Food Drive which is set up in our showroom. Thank you to Subaru Corporate and ABC news.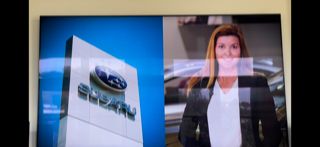 ---
Blanket delivery for Loves to Care - susan d
Subaru Sherman Oaks was honored to deliver six large boxes of blankets and metal crayon tins for the Leukemia and Lymphoma patients at Providence Cedars-Sanai Medical Center in Tarzana California. We worked seamlessly with Angie Wurm at LLS and many employees took part in the program. Please see photos :).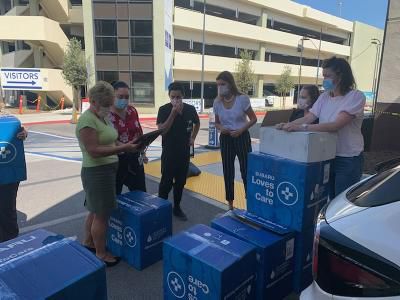 ---
Subaru Sherman Oaks Pet Adoption - Jennifer C
Today we had the 5th annual Subaru Sherman Oaks pet adoption. Subaru loves pets and no one loves pets more than Subaru Sherman Oaks. We have dogs and bunny rabbits available for adoption. Another great day helping beautiful animals faind loving homes. Big thanks to the LA Animal Shelter for being so helpful, and providing so many cute furry friends.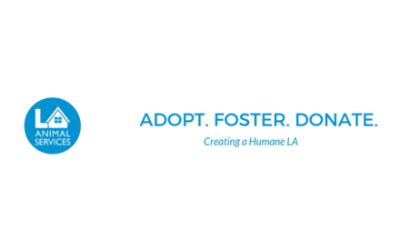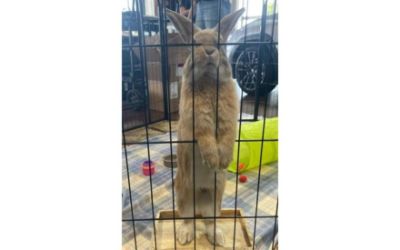 ---
Subaru Sherman Oaks Amazing Donation - Maria J
Dear Subaru: I am in awe of your generosity to the Los Angeles Police Department Family Support Group. Saturday, December 4th you gifted a gift basket for our annual Christmas luncheon that one lucky member went home with. The basket contents were beyond generous and went way beyond expectations. We are so happy that each family went home with a gift and you helped make that possible. The family that received your donation was a widow with two sons. They have expressed how excited they are to receive this gift and are so thankful. As you are aware our group does not want membership as our members are comprised of widows/widowers and their children of Los Angeles Police Officers who died while on active duty. We want to be there for them, to support and love them. When we get together the kids play and heal and the mom's and dad's get to share their struggles and concerns and our annual Christmas event is one of those moments. The Los Angeles Police Department Family Support Group is a 501(c) (3) nonprofit organization (Tax ID: 95-4758815). Please feel free to contact me at 714-785-1247 if you need anything further or have any questions. Thank you once again for supporting the Los Angeles Police Department Family Support Group. Sincerely, Maria Johnson President maria@lapdfsg.org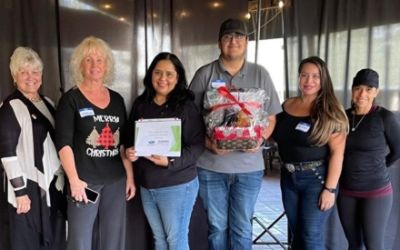 ---
Our Decade Of Subaru - Scott D
Subaru Sherman Oaks has been a large part of our life story over the last decade. My wife and I met at Subaru Sherman Oaks in 2009, we both bought Subarus (Penelope & Fred) around that time and started our new life together in Los Angeles. A few years later we decided to move to the mountains north of LA and embrace nature full time. The new mountain terrain of snow and off-roading trails called for upgrades and we again decided to buy two new Subarus equipped with X-Mode (Rex & Musubie). This past year we adopted a puppy and knew it was time for a larger vehicle that would allow us more room for camping trips with our new fur friend. Enter Ursula—our new 2020 Forester Sport! We name all of our Subarus, because they are part of our family, just as our friends at Subaru Sherman Oaks are part of our family. They have been with us through all of our life transitions and are always excited to see us and hear about our new adventures every time we come in. Subaru's dedication to the environment, their dedication to safety, and their consistency of service and quality has left us feeling the love always. Only time will tell what new adventure we will find ourselves on and what new Subaru's we will adopt in support of our next journey. Thank you Subaru Sherman Oaks for all of the love all of these years. -Scott & Gaby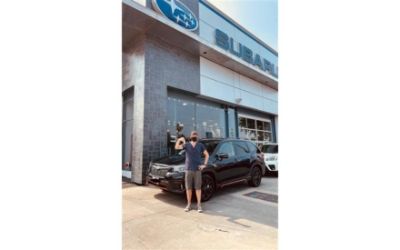 ---
TreePeople appreciates Subaru of Sherman Oaks! - Cindy M
Subaru Sherman Oaks' ongoing and generous support has been most appreciated by TreePeople and put to great use in Coldwater Canyon Park, TreePeople's headquarters. TreePeople was able to open the park to all visitors and hikers on Earth Day, April 24, 2021. We were so grateful to be able to welcome back all of our friends and have a safe place for them to visit. With Subaru's support, we were able to update banners in our parking grove sharing our We are TreePeople campaign with Subaru prominently featured at the bottom. Now our park's messaging is consistent with our overall outreach. Recently, the park operations team pruned many of our redwood trees, which aesthetically looks better, and removed a lot of dead wood from the eucalyptus above the parking lot - which improves parking and hikers safety. Lastly, Subaru Sherman Oaks' ongoing support of our virtual series Learn At Home continues to engage many participants from around the world on environmental topics from Mushrooms 101, iNaturalist, Observing and Connecting with Nature and Coyotes, Bobcats, Mountain Lions: Ecology & Conservation of Carnivores in the Santa Monica Mountains. TreePeople is enormously grateful for Subaru Sherman Oaks' ongoing support and partnership.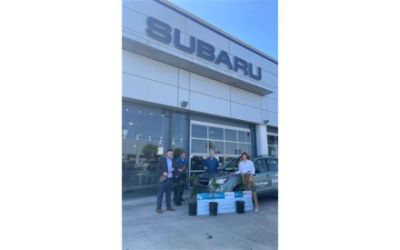 ---
SSO helping SOA reach 100 Million Meals - Dave C
Subaru Sherman Oaks helping Subaru reach 100 Million Meals As soon as we heard that Subaru of America was going to donate over 100 Million Meals with Feeding America, we had to put together a volunteer event . On March 16, 2021- Subaru Of Sherman Oaks teamed up with Subaru of America to volunteer at our local food bank in Pacoima. The Valley food bank was in need of helping hands as they only have 3 personnel to sort, pack, transport, and hand out food to those in need on daily basis. They were extremely grateful to have the extra helping hands for the day and quickly put us to work. During our time at the Valley Food Bank, we were tasked to build boxes and pack individual meals to feed those in need. The result was rather impressive, we ended up packing 4 pallets worth of meals that would feed over 450 families. We were very happy to give back to our local community and we look forward to volunteering with the Valley Food Bank again. Doing our part to help Subaru reach 100 Million Meals with Feeding America Thank You Subaru Sherman Oaks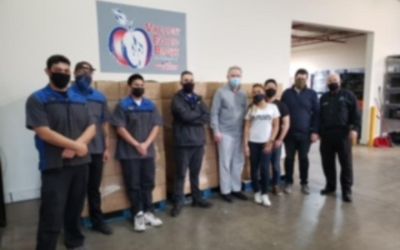 ---
Thanks for Supporting Bark For Life! - Teresa K
Subaru Sherman Oaks has been really supportive of our local Bark For Life and Relay For Life. We appreciate their support and their participation in our events. We love our Crosstrek and so do our Golden Retrievers! Gabby, Maya, Emma, and Molly are always ready to go for a ride!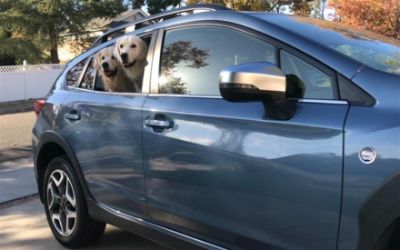 ---
Subaru Sherman Oaks Supports TreePeople - Courtney G
Courtney Gross (cgross@treepeople.org). Subaru of Sherman Oaks has been instrumental to TreePeople's ability to deliver its award-winning educational programs by providing us with the support necessary to turn our content to a virtual platform. When the pandemic affected our in-person trainings and educational programming, SSO was a key partner in helping us transform our educational programs and do-it-yourself curriculum that fosters environmental awareness into web-based content. Within four weeks of stay at home orders, TreePeople was able to develop a website, a delivery system, build an online following and transform our curriculum into lessons easily accessible and downloadable online. As a result, we have engaged with thousands of people from around the world, spreading our message urging people to take personal responsibility for their environment in ways we never imagined. None of this would have been possible without the generous support of SSO. At TreePeople, we believe "We Are All TreePeople" -- and nothing could not be more true than when speaking of SSO. Courtney GrossDirector of Developmenttreepeople.orgcgross@treepeople.orgW: 818.623.4886 | C: 310.344.196712601 Mulholland Drive | Beverly Hills, CA 90210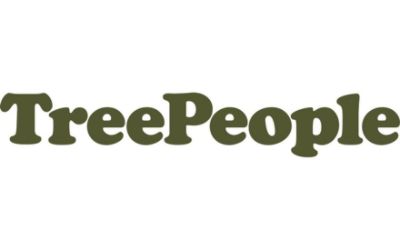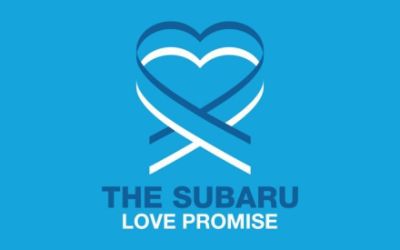 ---